7 Best Queensland Cities: From Cairns to the Gold Coast in a Campervan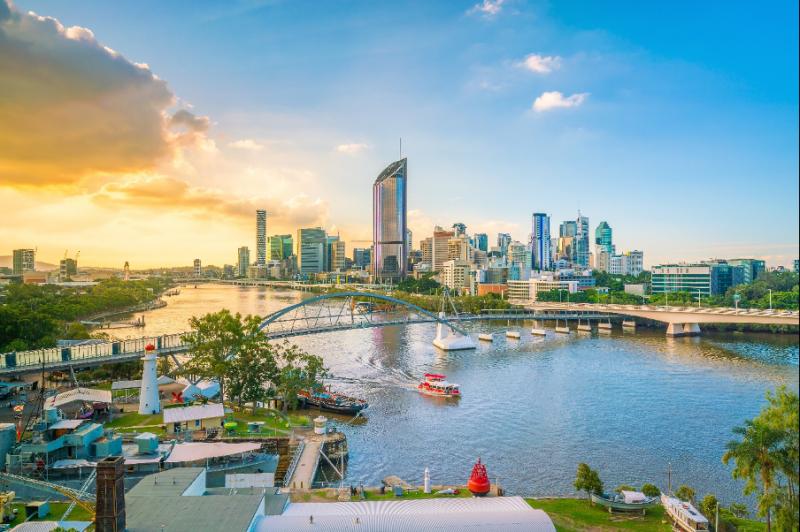 Queensland takes up a large chunk of Australia. As the country's second largest state, it covers a land size equivalent to nearly five times the area of Japan.
The beautiful coastline between its cities of Cairns and the Gold Coast, contain a variety of natural wonders, historical treasures, as well as fun attractions and entertainment galore.
All seven of the cities outlined below, can be seen in one epic road trip, or you can dedicate a holiday to just one or two of these fantastic destinations.
With much distance between, and so many things to see and do, a popular method of exploring Queensland, is by campervan.
Providing you with comfort, amenities and transport, you will find that a campervan hire from Cairns or Brisbane, is the perfect way to experience the Sunshine State.
Helpful Tip: If traveling one way, check prices for your Campervan Hire in either direction, as you might find a better priced deal by traveling the route in reverse.
To assist you with planning your next amazing adventure, here is a list of 7 Best Queensland Cities: From Cairns to the Gold Coast in a Campervan.
Cairns
The perfect base to explore Tropical North Queensland, Cairns is a gateway to both the reef and the rainforest.
Explore far and wide, starting with the Great Barrier Reef, the World Heritage Listed Site that contains a vast coral reef ecosystem. Take a day trip to go snorkelling or scuba diving, and discover this underwater wonderland.
The Daintree Rainforest is just a stones throw away, and its 1,200 square kilometres of wilderness, dates back to prehistoric times. After existing for at least 130 million years, it holds the title of the world's oldest living rainforest. Experience a cruise on the Daintree River, and lookout for the abundant wildlife, including the saltwater crocodiles - largest of the crocodilian species.
Townsville
From the moment you discover the buzzing beachfront promenade, lined with tropical palm trees, Townsville will have you captivated. The Strand, as the esplanade is called, spans 2.5 kilometres and includes a free waterpark - complete with slides, as well as an assortment of picnic spots, cafés and restaurants.
Take a stroll on the Strand Jetty, and you will be met with uninterrupted views of Magnetic Island, which sits just off the coast.
Magnetic Island is another great reason to visit Townsville. Accessible by ferry, you can either day trip over, or bring your campervan across and spend a few days. There won't be a shortage of activities, between the nature walks, secluded beaches and friendly wildlife.
Rockhampton
As one of Queensland's oldest cities, Rockhampton is a great place to engage in 1800's history.
Quay Street is National Trust heritage-listed, and contains a treasure trove of historic buildings to discover. Self-guided tours can be taken via the Explore Rockhampton website, which allows you to play free audio, as you wander the 2-kilometre Heritage Architecture Trail.
At the Rockhampton Heritage Village, you can enjoy vintage cottages, homesteads, antique machinery and automobiles. Otherwise, step back a lot further in time, at the Dreamtime Cultural Centre. Local Aboriginal guides will lead you on a tour, providing fascinating insight to Indigenous culture and history.
Hervey Bay
This natural bay is located between the Fraser Coast on the mainland, and the largest sand island in the world, Fraser Island.
Famous for the regular visits from migrating humpback whales, Hervey Bay provides a beautiful seaside escape all year long. Hervey Bay's beaches stretch far along its pristine coastline, and a 17-kilometre foreshore esplanade runs alongside it. The walk will take you from Point Vernon, past more than 10 parks and barbecue facilities, a variety of cafés, boutiques and takeaways, to the impressive Urangan Pier.
The Urangan Pier is over 800 metres in length, or nearly 3000 feet! A perfect spot to go wildlife watching, or enjoy a spectacular sunrise or sunset.
Enjoy the laid-back vibe of this city, that feels much more like a sea-side town, than a city with over 50,000 residents.
Sunshine Coast
This outdoor playground boasts stunning beaches and spectacular National Parks that cover coastline and hinterland.
Spend one day hiking the Glasshouse Mountains, and the next relaxing on soft sand beaches. Enjoy the strong community vibes at Eumundi Markets, where you can listen to local musicians, shop for handmade souvenirs, and enjoy a variety of cuisine from the many food outlets.
Australia Zoo calls the Sunshine Coast home, and will introduce you to a plethora of animals, both exotic and native species. You will be sure to experience wildlife encounters of your own, when you walk through the Noosa National Park, habitat to an abundance of bird life, mammals and marsupials.
Brisbane
Situated on the picturesque Brisbane River, you will find Queensland's capital city, a metropolis of culture.
No trip to Brisbane is complete without a visit to Southbank Parklands. This oasis in the heart of the city, is complete with a man-made swimming beach, sand and all. Take in a performance at the neighbouring QPAC entertainment centre, and dine at one of the many world-class restaurants surrounding the precinct.
Don't miss an opportunity to see the view from Mt Coot-tha, whether you witness a sunrise or sunset over Brisbane, or simply marvel at the stars from this vantage point.
Lone Pine Koala Sanctuary will be a must do for any animal lover. Dedicated to wildlife conservation, you will enjoy their impressive facilities, as provided to the creatures in their care – which include Koalas, Wombats, Platypus, Kangaroos and much more.
Gold Coast
The Gold Coast is far-famed for its reputation of fun and sunshine.
With theme-parks aplenty, white sandy beaches, world-class restaurants and shopping outlets galore, there really is something here for everyone.
Surfers Paradise is the most well-known spot of the region, containing half of all Gold Coast accommodation in this concentrated area. Surfers Paradise beach is patrolled by lifeguards every day of the year, and opposite is Cavill Avenue, the main street of the district. Here you will find an entertainment hub, complete with a massive video game arcade, novelty museums, escape rooms, restaurants, boutiques and nightclubs.
Australia's tallest building is also found in Surfers Paradise, allowing visitors to enjoy a panoramic view of the coastline, from its observation deck on the 77th level.
---
More to Read: