The Ultimate Guide For Finding the Best Spots to Park Your RV
When you drive your RV on the road , you can feel the comfort of your home on wheels. But sometimes you need to park the RV to sleep and rest. Finding out where to park your RV may require a great effort if you are a new RVer.
But there are a lot of websites to help you find the best place to park your RV .They provide different kinds of parking locations like RV park, campground, Rv resort, and free parking places. Now it's up to you which place you will prefer for staying overnight or long term stop.
Remember that, all RV parks, campgrounds and RV resorts are not the same. Some provide extra amenities and facilities, while some offer just a place to park the RV for that night. It depends how much you pay for parking.
Here we will discuss the best RV parks where you can park your RV safely. But before that let's talk about the resources that can help us to find the spot to park RV.
Resources to Find the Best Spot to Park Your RV:
If you have no past experience with RV then you will get a lot of help from these resources to park your RV. Some are given below:
● Campendium:
Campendium is one of the best free websites that allows you to select any location and access you a map. you need to filter your results by price, length of your RV, destination, hookups to narrow down your search. Then the website will give you a list of all the spots where you can park your RV.
● Hipcamp:
Himcamp is another free website. They provide over 2,80,000 spots to park RV. They have a variety of camping options like vineyards, public parks, ranches and more. They also give you other information about the spot. You can make a reservation from their website too.
● Allstays:
It is another best resource to find the best spot to park your RV. The app costs 9.99 dollars but will provide you everything you may need on the road like rest areas, gas stations, stores, RV dealers and more.
● Trip Advisor:
Trip advisor is a good resource for more popular RV parks and campsites. The best thing about this website is that they provide pictures of the spots and give some tips on which sites in the RV park and campground are the best.
You can also check the RV park reviews on the websites to know what other people experienced while staying at the spot you have chosen. So that you can make the best decision before booking any RV park spot.
To Use These Resources, You Need to Consider Below Things:
Your budget.
Your RV equipment and length.
How long you want to stay there.
Amenities or facilities you want to have.
Activities you want to do in the park.
Depending on these considerations the resources will help you to find the best spot to park your RV.
The Best Spots to Park Your RV: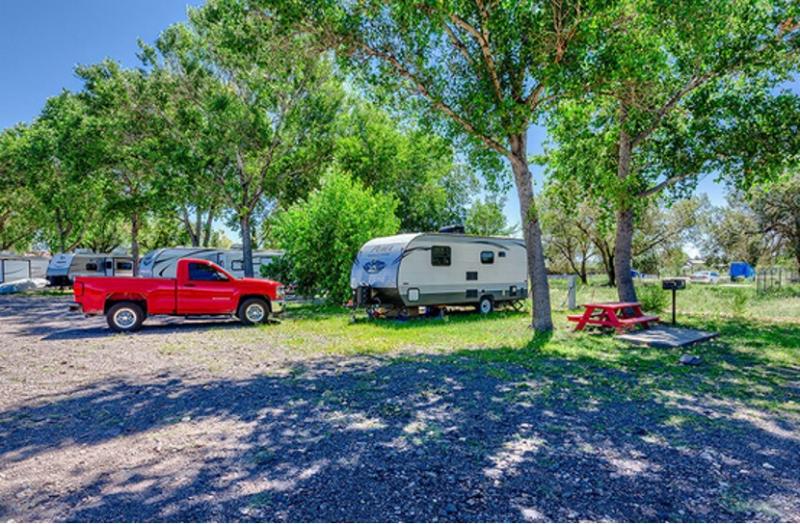 Based on your needs, location, requirements and budget, you can choose either a RV park, campground, RV resort or a free parking area to park your RV for a night or long term stop.
Let's discuss about the best spots to park your RV:
1) Campgrounds :
Campgrounds are the best option if you want to connect with nature and feel the natural beauty. The National and state parks have some campgrounds with the basic hookups and a simple place to park your RV over the night. They are more affordable than RV parks and RV resorts.
But you may face some length restrictions to park your RV on the spot. So, before booking your campground you should check reviews for your next adventure.
2) RV Parks:
RV parks provide more facilities and hook ups than a campground. These parks have few trees and a lot of places to park your RV safely. Many parks have extra amenities like spa, laundry, pool sites, Wifi connection, playground for your kids and more. These amenities can make your trip memorable.
Because of these facilities, RV parks are more expensive than campgrounds.
However, there are some ways to have discount on the cost:
Some RV parks offer a discount rate for longer stays. If you stay in the park for a week or longer then they will provide you a discount rate.
If you book a spot in advance, you may get the discount rate.
You will get a discount if you become a member of particular RV clubs like Good sam, passport America, thousand trail, Escapees and Harvest host.
3) RV Resorts:
RV resorts are full of extra amenities and facilities. They will also provide cleaning bath facilities, digital television, restaurants, even paper delivery service.
If you want a perfect civilization in a camping spot then RV resorts are the best option for you. RV resorts are more expensive than RV parks and campgrounds.
4) Free Parking Spots:
There are some free parking spots to park your RV. These spots are referred to as boondocking. In these spots you will just get a place to park your RV for a night. You may have to leave the spot the next morning. You will not get any hook ups like water, electricity, wifi.
Some walmarts, casinos, camping worlds, truck stops, large businesses with big parking lots may let you park your RV for free. But you can not always park in these areas. you should call and talk with the manager before you arrive.
Conclusion :
After reading this guide, now you get the ideas about the resources from where you can find the parking spots and choose the best spots to park your RV.
Make sure you follow the rules & regulations of the country while RVing and let us know where your favourite parking spot is.